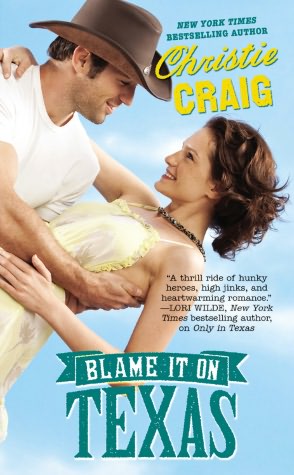 Zoe Adams has always been content with her quiet nights at home, watching TV alone-until her life turns into a real-life episode of Unsolved Mystery Hunters. The story of a kidnapped girl triggers unexplained memories, and Zoe is dead-set on figuring out why. Her search leads her to one of the Lone Star State's richest families-and to sexy PI Tyler Lopez.
Tyler has sworn off women, especially redheads with killer curves who poke their noses into his clients' private lives. Still, he can't deny the attraction any more than he can deny that some of Zoe's crazy story makes sense. But when she becomes a hit man's target, this cold case starts heating up. Suddenly, Tyler will do anything to protect Zoe-even risk his heart.
From author Christie Craig:
Ten Things You Will Learn from Blame it on Texas:
1.
Guys don't like to play dress up; but when one willingly dresses as a clown for their six-year-old niece's birthday party—because the real clown canceled—he's one special uncle. And could possibly make a special hero for some lucky lady.
2.
Sometimes, fear itself can do much more damage to us than the thing we're actually afraid of.
3.
Any man who doesn't cuss up a blue streak when you dump a plate of hot grits on him can't be all bad. (In fact, he might just be The One.)
4.
It's important to remember the lessons of the past so we can use them when making decisions for the future. But those lessons should never keep us from having the future we deserve.
5.
Before accusing the sexy guy who pounced, knocked you down, and crawled on top of you of being foreplay impaired; check to see if someone is shooting at you.
6.
The southern delicacy of a banana and mayonnaise sandwich may be an acquired taste, especially when a hungry hero chomps down on the delicacy and is expecting ham and cheese.
7.
If you think getting caught screaming and dancing on top of a mattress—all while attempting to rescue your cat from an overzealous dog—can be slightly embarrassing, try doing it while you're wet from the shower, and as naked as a jay bird. Oh, and just to make it even more fun, make sure you're caught by your possible love interest who hasn't seen you naked yet, and . . . (yes it can get worse) his two best friends.
8.
It's downright amazing how playing a few rounds of Strip Scrabble can spice up an evening.
9.
A family doesn't always have to be the people who share your bloodline; sometimes, the best families are those we make when we gather together all the people we love.
10.
Learning to trust yourself is usually a lot harder than trusting another person. But both are generally required before finding true love.
Hachette Book Group has very kindly offered 3 copies of BLAME IT ON TEXAS to 3 lucky winners! US/Canada only.
Mechanics:
1. Be a member.

2. Ask the author a question or answer this in the comment section: Have you read Christie Craig's other books? If yes, please share with us a book you most enjoyed. If no, what fascinates you about this book?
Contest Deadline: September 5, 2012, 1159pm EST
Winners selection: September 2012
Good luck!