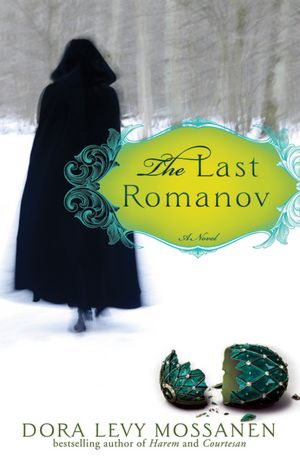 Even now in 2012, one of the greatest mysteries has been the fate of Grand Duchess Anastasia Romanov of Russia, the last of four daughters born to the Tsar Nikolas and his wife Alexandra. After the tragic execution of the Russian Royal family in1918, officials were never able to recover the remains of Anastasia. Tales of her supposed escape from Russia have gripped thousands for decades, fueling speculation that a daughter of Russia's last sovereign ruler survived the revolution that destroyed her immediate family.
June 18th marks what would be the 111th birthday of Her Imperial Highness Anastasia Romanov. In honor of the lost Duchess, Sourcebooks is giving away one copy of The Last Romanov by Dora Levy Mossanen!
"...An engrossing historical drama that blends mystery and memory together to tell a sprawling story...the research that went into this book helped create a vast and meticulous world that captures the imagination and lingers long after the pages ceased to turn."
~ Bridget, The Romance Reviews
IN A TIME OF RASPUTIN'S MAGIC AND ROMANOV MYSTERY, A YOUNG GIRL FINDS HERSELF AT THE HEART OF THE ROYAL FAMILY
She was an orphan, ushered into the royal palace on the prayers of her majestry. Yet, decades later, her time spent in the embrace of the Romanovs haunts her still. Is she responsible for those murderous events that changed everything?
If only she can find the heir, maybe she can put together the broken pieces of her own past-maybe she can hold on to the love she found. Bursting to life with the rich and glorious marvels of Imperial Russia, The Last Romanov is a magical tale of second chances and royal blood.
Mechanics:
1. You must be a US/Canada resident.
3. To enter the drawing, engage your imagination! Answer the following question: What do you think happened to Anastasia?
The winner will be selected via Randomizer.org
Contest ends June 26, 1159pm EST.
The winner will be announced on June 27.